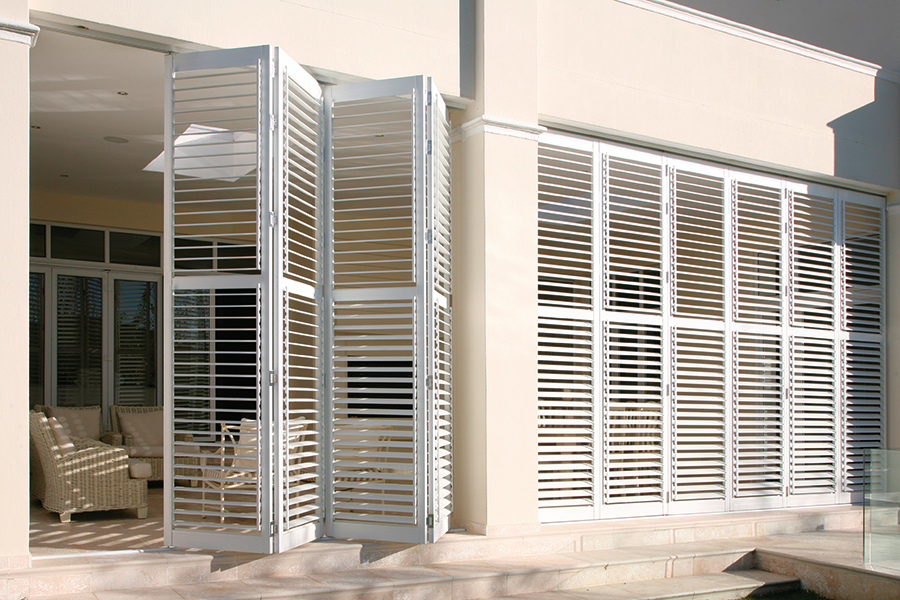 This innovative, patented system from Taylor provides an almost impenetrable barrier against burglars, without your house looking like a prison. It is the only product that does the job of shutters as well as burglar bars.
ShutterGuard is manufactured entirely from aluminium and stainless steel, with a durable white powder-coated finish, and is therefore impervious to rust, wind and weather. It can also be fitted inside windows and sliding doors, and the louvres are fully adjustable to provide a clear view or to ensure privacy.
The patented mechanism makes it extremely difficult for an intruder to break the louvres without the use of power tools – in a test, the shutters withstood a determined attack with a 2,2-kg hammer! The shutters now come with a specially developed, patented key lock mechanism, for even greater security. Each unit is made to order and installed by our expert staff, to fit precisely and function perfectly. Get stylish protection from burglars with elegant, but tough, ShutterGuard!
The innovative, patented system from Taylor provides a two-way locking system, making it virtually
impenetrable.
The patented Gear-lock keeps the shutters in place
A 6cm patented bolt secures the shutters to the floor, leaving no leverage to lift the lock out of the track
A 3.4cm bolt secures the top track when locked
The Cisa system allows you to lock the shutters with a unique security key. Should you wish to have a double-sided lock please request this with us.
An added security feature is the louvre lock pin that secures the closed louvre panel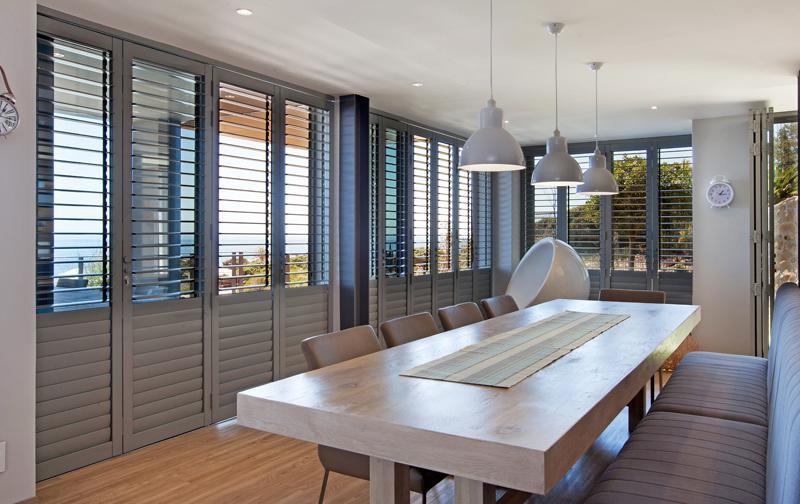 All of these security measures are designed to make the entire shutter extremely difficult to break through. Stringent security tests have been successfully carried out. ShutterGuard® is manufactured entirely from aluminium and can be fitted to almost any window and door and the louvres are fully adjustable. Each unit is 'Taylorised' to ensure a precision fit and perfect functionality.The standard finish is white or bronze but our ShutterGuard® and Hurricane Shutters can be powder-coated to complement your colour scheme and décor. Please note that an additional surcharge will apply for custom-made colours.
Whether it is privacy, security or an uninterrupted view you're after – speak to us about ShutterGuard®, there is no need to compromise on safety or style.
Styles:
Available as Bi-Fold, Bi-Pass, Slider or Cottage Arch configuration
Colour Palette:
Bronze or White.

Custom-made colours are an option, however an additional surcharge will apply.
Sizes:
Max/Min panel width: 850 - 300mm

Max/Min panel height: 2900 - 650mm
Mechanism:
Supplied with hinges, brackets and divider rail

Tracks for smooth operation
Security:
Patented Taylor Gear-Lock® system which has a single locking access point to simultaneously lock top and bottom tracks

Louvre lock pin to lock louvres

Patented Louvre Cassette System adding additional security strength

6 cm patented bolt secures shutters to the floor

3.4 cm bolt secures shutters to top track
Light Control:
Yes. Light control depends on the louvres tilt when closing/opening.
Privacy Control:
85% - 100% depending on angle of the louvre
Warranty:
10 years (refer to Warranty Terms & Conditions).